Spacesaver® FS23M Series
Dual Failsafe Concealed Mortise Bolt Locks
The FS23M dual failsafe feature is available only from SDC. Conventional failsafe locking bolts rely solely on a spring to retract the bolt while the FS23M bolt will unlock with or without the assistance of the spring. This is the only electric bolt lock listed by the California State Fire Marshal for locking of perimeter entrance and emergency exitdoors after-hours.
Large repelling magnets are located within the bolt and strike. When power is interrupted the bolt is retracted and held back by a spring. Should the spring fail, repelling magnets eject the bolt from the strike, unlocking the door.
FS23M
SDC Spacesaver® Electric Bolt Lock, Narrow Mortise, Dual Failsafe, CSFM Listed for 1-3/4" Frame.
---
u Features
Adjustable Auto Relock Switch
Dual Failsafe - CSFM Listed
Fits 1 ¾" minimum face frames
Dual 12/24VDC standard
Aluminum Finish Standard
Choice of 9 anodized & plated finishes
UL Listed, US & Canada
UL 10C Positive Pressure Compliant
Optional door status and Bolt status sensors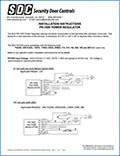 PR-1000 Power Regulator