REX APPEAL

BACK TO BASICS: EGRESS DEVICES
In 1992, SDC's SureExit® was and still is the only tri-failsafe request- to-exit bar and the only egress device utilizing pressure sense technology - with no moving parts. The MSB550 series of mechanical switch request-to-exit bars are an economical alternative to sensor activated bars. Both of these narrow, low profile egress device lines are built with heavy duty aluminum extrusions and metal end caps for high traffic while maintaining superior aesthetics for high profile openings.
Since 1972 SDC products have been designed, engineered and built in America to provide quality products that are readily available while most of our larger competitors manufacture overseas.
Egress Devices
Building codes essentially state that egress through access controlled doors must not require prior knowledge of operational requirements. Meeting this criteria, SDC's innovative egress devices are designed to comply with building safety codes for the release of magnetic locks and the activation of delayed egress locks installed on non-latching doors, to provide unhibited egress through access controlled openings, while eliminating the need for prior knowledge egress operation and enabling egress with a single natural motion. The use of request-to-exit bars eliminates the need for wall mounted exit switches that require prior knowledge and a manual secondary action to unlock the door. From glass doors to gates, from interior to exterior, there is a SDC egress solution that provides safe and reliable security for any environment.
SureExit® Pressure Sense Bars
PSB560 series egress devices are the only tri-failsafe exit bars using pressure sense technology. When slight pressure is applied two redundant solid state pressure sensors release locks immediately. A third redundant micro switch is automatically activated to release the door if both sensors or the electronics fail.

This ensures door operation will continue without prior knowledge or use. Unlike touch sensors, activation may be accomplished while wearing heavy gloves.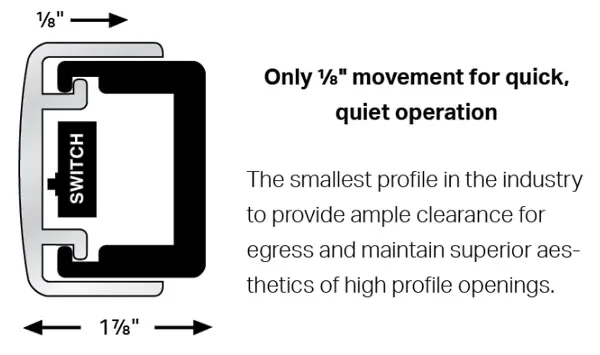 Only ⅛" movement for quick, quiet operation
The smallest profile in the industry to provide ample clearance for egress and maintain superior aesthetics of high profile openings.
Mechanical Switch Bars
MSB550 series mechanical switch bars are an economical alternative to sensor activated bars. When slight pressure is applied a microswitch is actuated, immediately releasing electromagnetic locks to meet building safety codes and provide unhibited egress. The mounting assembly is all metal, and no plastic. The rigid construction prevents any malfunction due to sagging or warped doors or tweaked glass door stiles. With a maximum total bar movement of only 1/8", trigger activation to release the electromagnetic lock is quick and quiet.
PRODUCT OFFERING
POPULAR CONFIGURATIONS
MSB550-2V36 - Dual Mechanical Switch Bar, 628, 36"
PSB560V36 - Pressure Sense Bar, 628, 36"
MSB550V36 - Mechanical Switch Bar, 628, 36"
MSB550-2Y36 - Dual Mechanical Switch Bar, 335, 36"
PSB560Y36 - Pressure Sense Bar, 335, 36"
MSB550Y36 - Mechanical Switch Bar, 335, 36"