CORPORATE BACKGROUND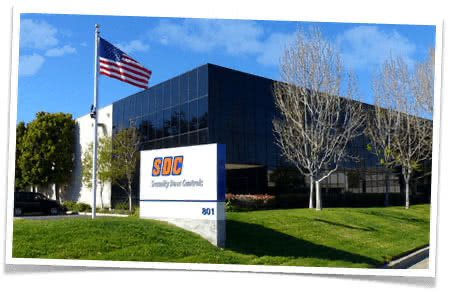 SECURITY DOOR CONTROLS develops, manufactures and markets mechanical door locks and exit devices, access controls, electronic locking devices and security systems worldwide. Arthur V. Geringer, D.A.H.C., with commitment of his personal funds, founded the company in 1972. Assembly of SDC products takes place in the United States and is available worldwide.

SDC brand products are channeled through security products wholesale distributors, systems integrators, contract and wholesale door hardware distributors. Additionally, SDC designs and manufactures products for several Original Equipment Manufacturers (OEMs), who sell SDC products under their own label. Sales are conducted through over 40 sales offices to service accounts.

A leader in the innovation of products within the electronic security and architectural openings industries, SDC holds scores of patents and trademarks. SDC's locking systems can be found in virtually any application where access control of a door is required; for example, industrial, commercial, retail facilities, technology centers, high-rise buildings, nuclear power plants, laboratories, museums, art galleries, libraries, schools and universities, airports and transportation facilities, government centers and military bases throughout the world.

The company's products and systems can be found in thousands of facilities, such as High-rise structures throughout most major U.S. cities from Los Angeles to New York; Duke Power Nuclear plants, North Carolina; J. Paul Getty Museum, Los Angeles; Museum of Modern Art, New York; Exxon, U.S.A; Bank of America facilities, U.S.A.; Chase Manhattan Bank , U.S.A; and many airports including JFK International;, O'Hare, Chicago; Dallas/Fort Worth, Texas; Edwards Air Force Base, California; Chek Lap KOK Airport, Hong Kong; Kuala Lumpur International Airport, Malaysia; and Saudi Arabia's two largest airports located in Riyadh and Jeddah.
Scroll to the Top
Scroll to the Top
Shane Geringer represents the third generation of his family to assume the role of Chief Executive Officer at SDC. He began working in production at SDC in 1988, and learned about the hardware and security business by advancing through a series of positions from sales engineer to VP of Sales, to his current responsibility as CEO and President. Over the last few years, Shane has accomplished a comprehensive re-organization of many SDC departments including Customer & Tech Support, Product Design and Marketing through team-building and strategic investments in people, assets and tools. Not only have these efforts significantly increased revenue year after year, they have included growth in margins as well - all while maintaining SDC's industry reputation for innovation, quality and its customer-centric culture.
Shane has also focused on corporate strategies to improve market-driven product design, new product roll-outs, and solutions development for specific customer segments and market niches. He insures these solutions address the latest trends and needs in the security industry, so the design team can incorporate them into future designs. He also coordinates programs for original equipment manufacturers, value-added resellers, and marketing/sales programs tailored to fit the individual requirements of each SDC business partner. Through his financial acumen, SDC regularly puts available capital to work through outside investments to help fund its growth. Shane is a DHI member, has served on its Editorial Board (2009), and is an alumni of its Technical School (1992 - 1995).
Gloria Marchand joined Security Door Controls as Secretary/Treasurer in 1992. Marchand supervises the accounting department, and is responsible for all month- and year-end financial reporting. Since 1992, Marchand's role has expanded from controller to include MIS administration. As such she is responsible for acquisition, implementation and training of all accounting, manufacturing, and quality information software and supervises IT personnel.Marchand also oversees the implementation and training of the material resource planning system used by manufacturing, and is a member of the American Production and Inventory Control Society.
Tim is responsible for establishing relationships with new distributors who partner with SDC and heads our headquarters office for International Sales & Support, as well having sales responsibility for the Middle East/Africa and India/Australia/New Zealand sales regions. Tim began with SDC as a consultant in 2011 and brings over 20 years of business and management experience with a focus on information technology, marketing and solution selling.
Tim can be reached via email at: tim@sdcsecurity.com
Kerby Lecka has over 25 years of marketing experience from specialized niche products, healthcare, consumer and high-tech to packaged goods…most notably Packard Bell and Mattel. He ensures that every marketing message is grounded in well-planned strategies derived from a complete knowledge of the target audience as well as the market. With a degree in Radio-TV-Film from Cal State Northridge's respected School of Communications, Kerby provides brand management, corporate image and product positioning skills to every client marketing assignment.

Kerby can be reached via email at: kerby@sdcsecurity.com
Digital marketing/business designer Susanne Rector has brought extensive design experience in print and digital communications to the company since 2012. Originally from Germany, Susanne worked for various Fashion magazines in Germany, Australia and the US as a Graphic Designer, Art Director and Creative Director. She is equally adept at print, catalog, trade show and collateral material design and production as she is at product photography, video production, social media, website development, email and direct marketing.
Susanne can be reached via email at: susanne@sdcsecurity.com
Scroll to the Top
---
Scroll to the Top
Arthur V. Geringer DAHC, founder, President, and Chief Executive Officer of Security Door Controls passed on September 5th, 2016 at age 93. Click here to read more about our beloved founder and industry legend.
Scroll to the Top
Scroll to the Top
Scroll to the Top
Scroll to the Top
CUSTOM ACCESS SYSTEM DESIGN ENGINEERING
Scroll to the Top
Scroll to the Top
Scroll to the Top
Scroll to the Top